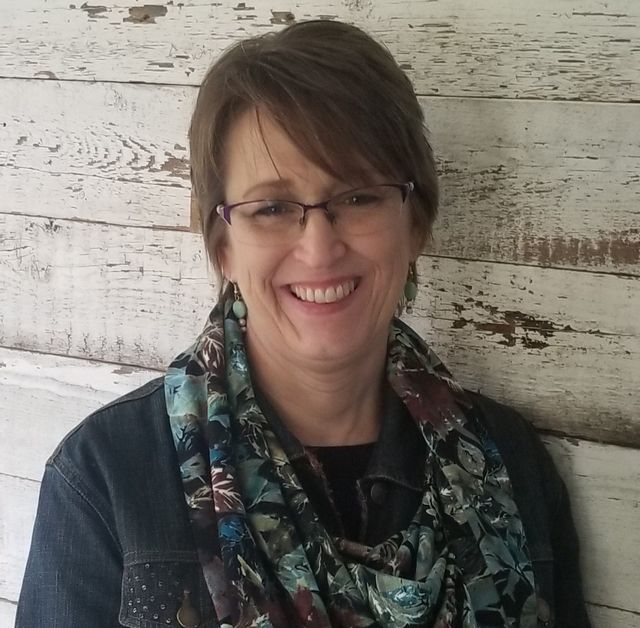 I'm a native of Ottumwa, a child of Deaf parents, and I graduated as an Ottumwa Bulldog.
Shortly after graduation, I moved to Vermont. While there, I pursued a career as a sign language interpreter, became involved in a Deaf ministry at my church in So. Burlington, VT.
After 20 years of living away from Ottumwa, I knew it was time to return to my hometown. I continued my professional career as a sign language interpreter in the local school district as well as my church in Ottumwa; I retired from interpreting recently. In 2008 graduating from Indian Hills Community College with an AAS degree, and a member of Phi Beta Kappa. My entire life from childhood until even now I have always loved creating things. I'm a 'Jill' of many crafts - sewing, crocheting, knitting, and later with the DIY craze I fell in love with saving broken/old things. I'm addicted.
When I came back to Ottumwa in 2003 I had shared with my husband that someday I would have a shop that would be full of arts and craft inspirations; not grandma's crocheted afghans, but really cool items.
In 2013, I played around with traveling to flea markets; but it didn't fit what I wanted to do. I know not everyone has a talent for crafting or the time. That's where Martha's can help you out. It was perfect timing that a building became available in the downtown district of Ottumwa. March 1st 2017 was the start of what was always a dream.
The community has been very receptive to the concept of Martha's Nook & Cranny. I wouldn't be the shop I am now without the returning consumers who share with others their experience. My favorite part is when a customer enters my shop and then smiles because they are pleasantly surprised when wandering through. I get many compliments on the ambiance of the shop and how unique it is. That is how my shop was given the tag line of being a hidden treasure in the heart of Ottumwa. I hope you will stop by and say hello, who knows you might find the 'just right' unique gift or home decor.